Quashed/​​Dismissed
Pretrial Motion
Felony Drug Delivery (2 counts) Prosecuted by  Pennsylvania Attorney General's Office
Delaware County
Not Guilty
Jury Trial
Criminal Attempt Murder of a Law Enforcement Officer of the First Degree
Delaware County
Not Guilty All Charges
Jury Trial
Aggravated Assault-Attempt to Cause Bodily Injury to Law Enforcement (3 counts), Robbery (3 counts)
Delaware County
DUI-ARD
Eligible to Expunge
DUI-ARD 12/6/16, DUI-ARD 1/3/17, DUI-ARD 1/24/17, DUI-ARD 4/11/17
Chester County
DUI-ARD
Eligible to Expunge
DUI-ARD 3/28/17, DUI-ARD 4/4/17, DUI-ARD 4/25/17, DUI-ARD 5/16/17
Montgomery County
DUI-ARD
Eligible to Expunge
DUI-ARD 1/18/17, DUI-ARD 2/8/17, DUI-ARD 3/16/17, DUI-ARD 5/17/17
Delaware County
CRIMINAL DEFENSE LAWYERS
As an aggressive and experienced criminal defense lawyer, Attorney Saadzoi will work to get your charges reduced or dropped altogether. If you need a skilled defense Attorney in Southeastern Pennsylvania, contact Attorney Saadzoi today for a free case evaluation - 610-566-5956. We work in Delaware Co., Montgomery Co., and Chester County Pennsylvania.
IMMIGRATION LAWYER / DEPORTATION ATTORNEY
As an immigration lawyer in Pennsylvania, Attorney Saadzoi will fight for your legal rights, fight against deportation and/or help you gain a legal visa / citizenship. You are entitled to legal representation, even if you are not a U.S. citizen or do not have documentation. Call Wana Saadzoi today for an appointment - 610-566-5956. Saadzoi Law can help you navigate the legal system to reach a positive outcome for you or your family.
Attorney Saadzoi is a compassionate attorney who wants the best for you and your family. Few things in life are more stressful than being arrested or deported - call Attorney Saadzoi today so she can prepare a strong case in your defense and help protect your rights and fight for your freedom.
Get Aggressive Representation
Call Attorney Saadzoi today
610-566-5956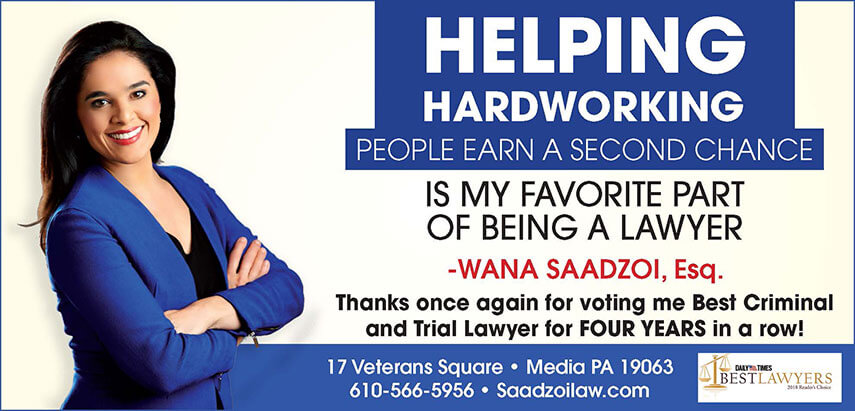 When Experience & Aggressive Representation Matter
As a board member of the Pennsylvania Association of Criminal Defense Lawyers, with over 13 years of trial experience, I have developed a reputation with my peers for being a no-nonsense aggressive lawyer. I am not afraid to fight for my clients and take cases to trial if necessary.
As Featured On: