Criminal Lawyer and Immigration Attorney
Your Rights Matter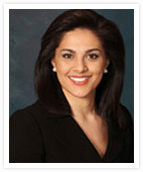 There are few things in life more stressful than being arrested. A criminal conviction could mean time in prison, probation, fines, loss of employment and a damaged reputation. If you are not a U.S. citizen, however, a conviction could also mean deportation. Legal representation is essential in navigating the criminal justice and federal immigration systems.
My name is Attorney Wana Saadzoi and I have the experience and knowledge you need to protect your rights and minimize the negative effects of a criminal conviction.
At my law firm with three locations in Southeastern Pennsylvania, I work with clients like you who are scared of being swallowed up by the system and potentially losing their families.
I have a track record of successfully resolving cases for my clients, whether that is through acquittals, getting charges dropped or reduced, or securing alternative resolutions such as accelerated rehabilitative disposition.
Experienced Pennsylvania Immigration Attorney Who Knows The System
If you are an immigrant facing criminal charges such as simple assault, you need a lawyer who knows what effect the criminal case will have on your immigration status. I know what is at stake for you, and the effects that criminal charges could have on your legal immigration status in the United States.
I have also spent time as a prosecutor and public defender, giving me vital experience in the criminal justice system on both sides. I know what arguments prosecutors will make and what judges will accept. I will put that knowledge to use for you.
Do Not Wait. Call Attorney Saadzoi Today to Protect Your Rights.
If you are facing criminal charges, contact Attorney Saadzoi today to speak to her about your case.
It is important that you do not delay in hiring an attorney, because your immigration status could be on the line.
Call 610-566-5956 to schedule a consultation.
The Law Offices of Wana Saadzoi, Esquire LLC accepts credit cards, and, in addition to Attorney Saadzoi being able to speak Farsi, Dari and French, she can provide Spanish translation services if necessary.
Attorney Saadzoi is a compassionate attorney who wants the best for you and your family. Few things in life are more stressful than being arrested or deported – call Attorney Saadzoi today so she can prepare a strong case in your defense and help protect your rights and fight for your freedom.
Get Aggressive Representation
Call Attorney Saadzoi today for a free consultation
610-566-5956
Delaware County, PA
115 West State Street, Suite 403
Media, PA 19063
Chester County, PA
600 Eagleview Blvd, Suite 300
Exton, PA 19341
Montgomery County, PA
325 Sentry Pkwy, Suite 200
Blue Bell, PA 19422