Veterans Court – Delaware County, PA (Delco)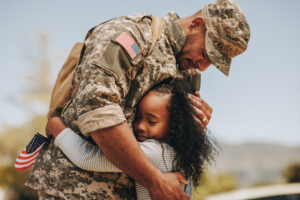 U.S. Veterans are the backbone of this country and deserve a higher respect than the common citizen. For this reason, most counties in Pennsylvania have created a different type of court for U.S. Vets who are charged with crimes.
In Delaware County PA, Veterans Specialty Court, also known as Veterans Treatment Court, was created in 2011. This court is an alternative to traditional criminal penalties and is limited to only defendants who have served in a branch of the U.S. military.
Many vets are struggling with addiction, Post-Traumatic Stress Disorder (PTSD), and Traumatic Brain Injury (TBI).  These vets deserve treatment options instead of a criminal record. Therefore, Veterans Court may be an option for certain types of crimes if a person qualifies.
Participants who qualify and complete the Veterans Treatment Court may have the court consider dismissing or reducing their charges. Determination is on a case-by-case assessment of a prior record and the nature of the offense by the judge(s).
Are you eligible for Veterans Treatment Court?
Get a Free Consultation from The Law Offices of Wana Saadzoi, Esquire LLC to find out if you are eligible – Call 610-566-5956.
At The Law Offices of Wana Saadzoi, Esquire LLC, our primary goal is to have your charges dismissed or significantly reduced. 
---
Do Not Fight Criminal Charges Alone
Get a Free Legal Case Evaluation
Call Delco Criminal Attorney Saadzoi Today
610-566-5956
---
How Does Veterans Court Work? 
The mission of the Veterans Treatment Court is to provide substance abuse and mental health treatment to veterans who honorably served in U.S. armed forces. It uses a "no veteran left behind" policy to reduce recidivism while rehabilitating defendants.
The program is extensive. The average length of time for participants in the program is 12 – 24 months. It is a highly structured program.
U.S. vets accepted into the program can expect treatment sessions, scheduled and random drug testing, and regular and mandatory court appearances.
Participants must complete assigned courses or treatment programs, which are determined by a group of mentors and probation officers to complete the program.
The Veterans Treatment court matches a participant with a mentor (also a U.S. Vet) from the County Department of Veterans Affairs. The mentor is assigned upon admission.
The Veterans Court Program in Delaware County may include the following:
Drug and alcohol counseling and treatment;
Treatment for mental health;
Probation;
A mentorship from fellow U.S. Veterans, and;
Random alcohol and drug testing;
Participants will appear before a judge on a regular basis and receive support from mentors, who are required to be U.S. Veterans.
Eligibility into Veterans Treatment Court
To be eligible, a person must have served in a branch of the U.S. military and received an Honorable discharge.
Generally, the court accepts non-violent criminal offenses, such as DUI, drug crimes, and small theft crimes. The court will consider other crimes on a case-by-case basis.
One stipulation is to agree to not take any narcotics, including prescribed narcotics while enrolled in the program.
Crimes excluded by the Veterans Treatment Court include:
Felony Sex Offenses;
Felony Violent Crimes, and;
Homicide and Manslaughter are not considered eligible under any circumstance.
In addition, if there are unresolved criminal charges outside of Delaware county, defendants are considered ineligible. An attorney should be consulted about resolving out-of-county charges.
If a veteran suffers from mental illness and substance abuse, they may be evaluated by the Veterans Treatment Court, but they also may be referred to Drug Treatment Court or Behavioral Health Court.
For more information read the Delaware County Veterans Court Manual.
How Can Attorney Saadzoi Help?
Attorney Saadzoi and our team of experienced criminal attorneys honor, appreciate, and are grateful for the service of our veterans. We understand that mental health plays a vital role in the choices people make and that everyone deserves a second chance to get back on their feet without always worrying about the past.
We work with our clients and listen to all the details of their cases to better understand how we can fight the charges for them – either to press for them to be dismissed completely or push to get your charges significantly reduced.
Attorney Saadzoi has years of experience successfully helping clients get their criminal charges reduced, dismissed, and resolved. We work hard to ensure you understand the legal options available so you know what you are up against – and how to fight your charges to get them reduced or even dropped altogether.
Attorney Saadzoi will do everything possible to get your charges reduced or dismissed altogether. 
---
Get Aggressive Representation
Call Today for a Free Legal Case Evaluation
Contact PA DUI Attorney Saadzoi
610-566-5956
Delaware County, PA | Chester County, PA | Montgomery County, PA
---
Learn More About The Law Offices of Wana Saadzoi, Esquire LLC: